Office/Service
Contact Information
Academic Advising Center
gcc.mass.edu/advising
advising@gcc.mass.edu
(413) 775-1339
There's also a chat feature on the website monitored Monday-Friday 8am-4pm
Career Services
gcc.mass.edu/career-services
The Career Services website includes the ability to chat online with a career counselor, a list of job openings, career exploration resources and internship information.
Counseling
gcc.mass.edu/wellness/counseling

Kathleen Keough, Counselor
keoughk@gcc.mass.edu
(413) 775-1337
Disability Services
gcc.mass.edu/ds

Colleen Caffery, Coordinator of Disability Services
cafferyc@gcc.mass.edu
(413) 775-1812
Cindy Kunz, Learning Specialist
kunzc@gcc.mass.edu
(413) 775-1393
Food Pantry
gcc.mass.edu/food-pantry

Arrangements for pick up and/or delivery are currently being made, email 

foodpantry@gcc.mass.edu for more information
Library
gcc.mass.edu/library

reference@gcc.mass.edu


Call: 413-775-1831
Text: 413-376-7706
Chat: gcc.mass.edu/library/ask
Peer Tutoring
gcc.mass.edu/tutoring

Norman Beebe, Coordinator of Math, Business, Sciences

Cindy Snow, Coordinator of Writing, Humanities

Technology & Online Learning Support
gcc.mass.edu/helpdesk
studenthelp@stuemail.gcc.mass.edu
Transfer Office
gcc.mass.edu/transfer
advising@gcc.mass.edu
Many 4-year schools are offering virtual tours and information sessions!
Veterans, Military, & Dependents Services
gcc.mass.edu/veterans

Holly Lovelace, Veterans Certifying Official
lovelace@gcc.mass.edu
(413) 775-1885
Women's Resource Center
gcc.mass.edu/wrc* You need not identify as a woman to access advice and support through this office. We are available to students of any gender. *
Rosemarie Freeland, Coordinator of Women's Resource Center
freeland@gcc.mass.edu
(413) 775-1114
Diana Abath, Women's Resource Center Advocate
abathad@gcc.mass.edu
(413) 775-1148
The majority of the 2020 term will be taught remotely, with the exception of adventure education classes and some components of health occupations classes that require face-to-face teaching.
What does remote learning mean?
Remote learning is a model of instruction and learning in which the teacher and students are not present in the same physical environment. Here are some key terms to help you understand the format of fall classes.
Online Class • An umbrella term that describes a number of different course delivery options, typically involving a computer and the internet
Hybrid Class

 • An instructional approach that includes both face-to-face and online learning activities. For example, the class meets in person every Tuesday 9-10:15am and the rest of the course is conducted remotely.

Synchronous Class

 • Requires students and teacher to be (virtually) present at the same time. For example, students log into the course every Monday 2-3pm for a video or audio conference and the rest of the course is conducted remotely without "real-time" interaction.

Asynchronous Class

 • Does not require students and teacher to be (virtually) present at the same time.
Where can I find details about the format of specific classes?
Find classes in the online class schedule and make note of the class CRN.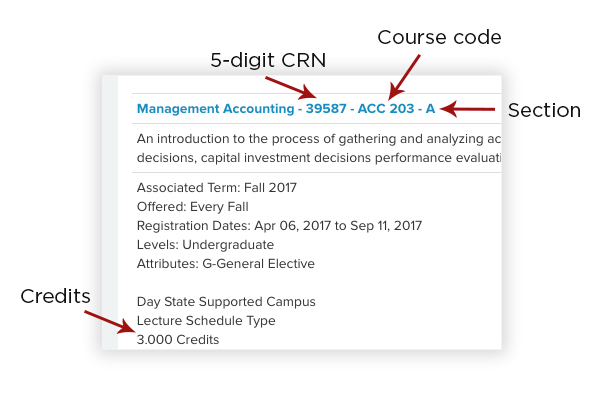 Then visit gcc.mass.edu/classes/remote to search by CRN. (Detailed info may not be available for all classes.)
How can I access college services and support for remote learning?
All support services are still available and will continue remotely. See the contact information below for how to set up appointments and get more information. In general, emailing first is best, but we do check voicemail throughout the day.