To set up an appointment and for general communication emailing first is best!
Department
Services Offered
Contact Information
Academic Advising Center & Transfer
gcc.mass.edu/advising
gcc.mass.edu/transfer

Developing an academic plan
Reviewing degree requirements
Making changes to your schedule
Adding or dropping classes
Listening to your needs and referring to resources
Advice & assistance in determining next steps for transfer to a four-year institution

All advisors are working remotely. For general questions, email advising@gcc.mass.edu

To schedule an appointment call (413) 775-1339, chat (M-F, 8am-4pm) or complete an appointment request form on our website

Career Services
gcc.mass.edu/career-services

Career exploration & decision making processes
Education major exploration & decision making processes
Job search preparation & strategies
Employment information

Shannon Doran, Career Services Coordinator
dorans@gcc.mass.edu
(413) 775-1160
Or chat on our website
Community Engagement

Mentoring Program offering general support for students (e.g., advice based on lived experience, support, encouragement etc.)
In partnership with Career Services, mentoring is available for career-specific activities (e.g., resume writing, cover letter, interview prep etc.)
Weekly recovery meetings

Judy Raper, Associate Dean for Community Engagement
raperj@gcc.mass.edu
Counseling
gcc.mass.edu/wellness/counseling


Assists students with personal challenges
Offers one-on-one short term supportive counseling
Provides web-based counseling tips, and mental health information and resources
Refers & connects students to community resources

Kathleen Keough, Counselor
keoughk@gcc.mass.edu
(413) 775-1337
Disability Services
gcc.mass.edu/ds


Verifies student eligibility for accommodations
Coordinates accommodations across campus
Refers & connects students to community resources
Provides consultation and training about disabilities for faculty and staff

Colleen Caffery, Coordinator of Disability Services
cafferyc@gcc.mass.edu
(413) 775-1812
Cindy Kunz, Learning Specialist
kunzc@gcc.mass.edu
(413) 775-1393
Food Pantry
gcc.mass.edu/food-pantry

Grab and go bags (pick-up on campus)
Grocery store gift cards for qualified patrons
Resources to support immediate and long-term food needs

foodpantry@gcc.mass.edu
Learning Support

Assists students with disabilities in the development of academic fluency skills such as organization & time management, study skills strategies and test preparation

Cindy Kunz, Learning Specialist
kunzc@gcc.mass.edu
(413) 775-1393
Library
gcc.mass.edu/library

Chat, phone, videoconference, and email reference and tech help from 10am-6pm M-F (or other times by appointment).
Hotspot and laptop loans via Technology Lending Library
Assist with any step of the research process:

Determining an appropriate topic
Organizing to begin the writing process
Finding/evaluating academic information
Citation assistance

Circulation of academic materials to meet course assignment needs

reference@gcc.mass.edu


Call: 413-775-1831
Text: 413-376-7706
Chat: gcc.mass.edu/library/ask
Math Studio
gcc.mass.edu/math/studio

Join a "community of learners" outside of the classroom
Students from beginning level to advanced courses work with and help each other
Receive assistance from math faculty

Peer Tutoring
gcc.mass.edu/tutoring

Helps students understand and manage course content, such as math, science, and languages
Helps students work through assignments, breaking them down into doable steps
Works with students to access online IT resources and navigate technology, such as Moodle

Montserrat Archbald, Scheduling

Student Activities
gcc.mass.edu/student-activities

Create or join a club
Participate in student governance
Attend educational, cultural, and social events

Mary McEntee, Coordinator of Student Activities
mcenteem@gcc.mass.edu
(413) 775-1203
Student IT Help Desk
gcc.mass.edu/helpdesk

Assistance logging into Moodle, email, or MyGCC account
Password resets

studenthelp@stuemail.gcc.mass.edu
(413) 775-1356
Veterans, Military, & Dependents Services
gcc.mass.edu/veterans


Manages certification process of educational benefits related to military service
Refers & connects students to community resources for veterans, military personnel, and their dependents

Holly Lovelace, Veterans Certifying Official
lovelace@gcc.mass.edu
(413) 775-1885
Women's Resource Center
gcc.mass.edu/wrc* Support is available to any student regardless of gender. *

Advocacy
Life coaching & planning
Financial assistance
Information & rferrals such as:

Childcare
Federal/state benefits (e.g., TANF, SSI, EAEDC)
Food insecurity (e.g., SNAP)
Housing, medical, and legal aid

Resource research & networking

Rosemarie Freeland, Coordinator of Women's Resource Center
freeland@gcc.mass.edu
(413) 775-1114
Diana Abath, Women's Resource Center Advocate
abathd@gcc.mass.edu
(413) 225-1809
The majority of the 2020-21 academic year will be taught remotely, with the exception of adventure education classes and some components of health occupations classes that require face-to-face teaching.
What does remote learning mean?
Remote learning is a model of instruction and learning in which the teacher and students are not present in the same physical environment. Here are some key terms to help you understand the format of fall classes.
Online Class • An umbrella term that describes a number of different course delivery options, typically involving a computer and the internet
Hybrid Class • An instructional approach that includes both face-to-face and online learning activities. For example, the class meets in person every Tuesday 9-10:15am and the rest of the course is conducted remotely.
Synchronous Class • Requires students and teacher to be (virtually) present at the same time. For example, students log into the course every Monday 2-3pm for a video or audio conference and the rest of the course is conducted remotely without "real-time" interaction.
Asynchronous Class • Does not require students and teacher to be (virtually) present at the same time.
Where can I find details about the format of specific classes?
Find classes in the online class schedule and make note of the class CRN.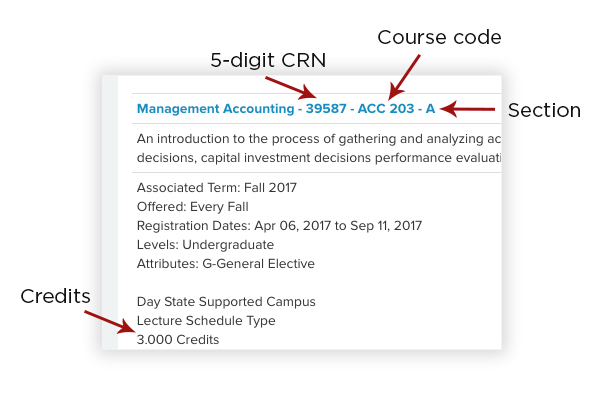 Then visit gcc.mass.edu/classes/remote to search by CRN. (Detailed info may not be available for all classes.)
How can I access college services and support for remote learning?
All support services are still available and will continue remotely. See the contact information below for how to set up appointments and get more information. In general, emailing first is best, but we do check voicemail throughout the day.